Enrollment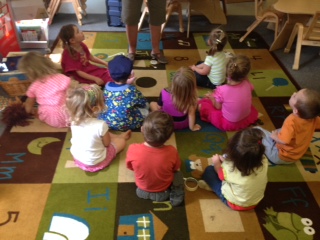 Enrollment is open to all children between the ages of 6 weeks to 6 years of age, regardless of color, race, national origin, religion, ancestry or gender.
Steps of Enrollment
With an initial inquiry, parents are given information about our center, policies, and availability of openings.
An interview and tour is scheduled.
After the interview, parents have the option to reserve a spot for their child if there is an opening available. In order to hold the spot, two week's tuition is due at that time. This is a non-refundable deposit, and will be credited towards your first two weeks tuition. There is a non-refundable annual registration fee of 65$ for new families and 50$ for current families, applied either upon enrollment or during fall registration.
If there is not an available opening, parents can be placed on the waiting list and notified of openings as they become available. There is no fee for being placed on the waiting list. Should an opening become available, we will notify each person on the waiting list in the order they inquired.
Tuition 2022
Classrooms

Part-time

Full-Time

Seeds (birth-24 months)
Sprouts (24-36 months)
$80.50/day
$80.50/day
$300/week
$260/week
Saplings (36-60months)
$80.50/day
$230/week